Are You Trying to Avoid Back Surgery?
You now have an alternative to back pain, bulging disc, and herniated disc pain. Spinal Decompression Therapy provides hopeful alternatives to surgery with proven results. Dr. Coleman, one of a small percentage of chiropractors to offer Spinal Disc Decompression Therapy in Fort Collins, and has helped many patients avoid surgery and get their lives back on track. Spinal decompression and the equipment used on our office helps conditions both in the neck (cervical spine) and the low back (lumbar region). Solve your sciatica, and herniated disc pain with this painless computerized treatment method.
The treatment is a comfortable and gentle process, and could be your best option to avoid surgery. Herniated disc treatment is safe and effective for the right candidate. We make sure to ask the right questions first, and make the best recommendation for what is in your best interest.  Contact our Fort Collins Spinal Decompression Therapy office for more information or to schedule an appointment.
Being diagnosed with a herniated or bulging disc can be scary and create worry. We understand and may have a solution to help you avoid painful and unnecessary surgery to your neck or low back.  In many cases it is possible to avoid invasive surgery using conservative treatment and non invasive methods. Avoiding surgery might be an option through Triton DTS Spinal Decompression Therapy offered by Fort Collins chiropractor Dr. Coleman.
Call our  Fort Collins Spinal Decompression office at 970-493-3100 and schedule an appointment today. We offer a complimentary 20-minute consultation including free x-ray/MRI review to determine if we can help you. Sit down with Dr. Gil and see how you feel working together.  No strings, No pressure. No charge. Simply our experience working to help you.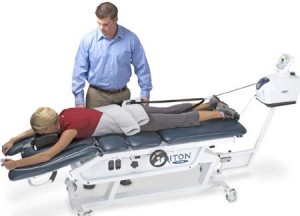 Dr. Coleman's Philosophy on Patient Care
Patients who are candidates for spinal decompression therapy involves treating serious medical conditions. We often see patients with a complex diagnosis that often requires other complimentary treatment components offered in our office in addition to spinal decompression treatment to ensure patients have a good response to treatment.  As such, it is essential that proper care, time, and attention to detail be given to each person up front during a detailed consultation, examination, and review of medical imaging tests. Each person's condition is treated uniquely and personally. In our office, the doctor is responsible for managing each treatment session, which results in better patient outcomes compared to auxiliary staff performing procedures in other offices. Our office is renowned for exemplary personalized service.  Contact Dr. Gil Coleman today at 1-970-493-3100 and get your life back on track so you can get back to doing the things you love.
We are here to help. Whatever it takes!
More Details and Information on Spinal Decompression Therapy in Fort Collins
Click the link to read an article written by Dr. Gil Coleman about Fort Collins spinal decompression therapy.
4-Minute Video Explaining the Science of Spinal Decompression Therapy